Mooresville Chiropractic Care
for Personal Injury Pain Management
If you have suffered a personal injury, it's natural to be frustrated with traditional medical treatments and worry that you will always struggle with chronic pain. Whether you suffer from Carpal Tunnel Syndrome pain,
back pain
, headaches or sciatica, our
Mooresville chiropractic care center
is committed to helping you get healthy fast. Our experienced chiropractor, Dr. Ryan Robinson, has helped over 20,000 patients get healthy through natural pain management.
Natural Pain Relief for Back Pain, Neck Pain, Sciatica,
Carpal Tunnel Syndrome, and More
While some personal injuries may be caused by a serious accident, many others are as simple as a slip and fall. Even though you may only have a few bruises, serious trauma may have occurred to your musculoskeletal system. Without proper care, this can lead to long-term, chronic back pain, neck pain, or Sciatica. Restoring alignment to the musculoskeletal system is essential to correcting the underlying problem causing your injury.
Nearly every American will suffer from back or neck pain at some point in their lives. This pain may be due to a combination of factors including improper posture, improperly lifting a heavy object, or slipping and falling. If a disc in the spine is no longer in proper alignment, this disc can compress nearby nerves. This condition, also known as a pinched nerve, can lead to a shooting or radiating pain sensation in the neck, shoulders, lower back, buttocks, and legs. While medication can provide temporary relief, it cannot relieve the source of the pain. It is essential to correct the underlying misalignment and relieve pressure on the nerve. A chiropractor like Dr. Robinson will identify the location of your subluxation (the medical term for a misalignment) and create a customized treatment plan. Our goal with every patient is to correct the underlying problem and help accelerate your journey back to good health.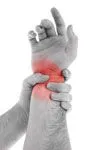 Thanks to our increasing dependency on computers, Carpal Tunnel Syndrome is one of the most common personal injuries affecting Mooresville patients. Typing on a keyboard or other repetitive motions can put excess strain on the wrists. Inflammation and swelling can narrow the median nerve channel that the median nerves pass through between the arm and the hand. This pressure can lead to chronic pain.
Chiropractic
care is a safe and effective way to treat Carpal Tunnel Syndrome. Gentle adjustments and manipulation provide long-term pain relief, without the risk of invasive surgeries. Physical therapy, massage therapy, and corrective care exercises can also help reduce inflammation and swelling.
If you suffer from migraines,
chiropractic
treatments can help manage your pain and reduce future occurrences. Scientific studies and clinical trials have found that spinal manipulation therapy is an effective alternative to medications, especially when it comes to reducing the occurrence and severity of migraines. Studies have also found that massage therapy, nutritional counseling and lifestyle advice can reduce the occurrence of migraines without the need for medication. If you suffer from severe
headaches
or migraines, our chiropractor will work with you to develop a personalized treatment plan that addresses the underlying misalignment causing your pain.
No personal injury should stop you from living an active life. Get healthy today with care from our Mooresville chiropractor. We treat personal injury patients in Mooresville, Lake Norman, Cornelius, Troutman, and Statesville. Call us at (704) 664-1333 to schedule an appointment today.