Mooresville Sports Injuries Treated with Chiropractic Care
There's nothing more frustrating than a sports injury that holds you back from living a full, active life. Even if you are not a professional athlete, you still deserve high-quality care that can get you off the sidelines and back in the game. Our chiropractor, Dr. Ryan Robinson, has helped hundreds of patients safely recover from
Mooresville sports injuries
. From back pain and
sciatica
to shoulder pain and tennis elbow, Dr. Robinson's chiropractic care will help you get you active again.
Mooresville Chiropractor Offers Relief for Back and Neck Pain, Sciatica, and Tennis Elbow
Dr. Robinson's approach to treating sports injuries is different from traditional medical care. While many doctors prescribe painkillers or recommend invasive surgery, Dr. Robinson believes there is a better, more effective way. His treatments focus on the underlying cause for your injury. Oftentimes, knee pain, neck pain, shoulder pain or
back pain
is symptomatic of a larger problem with the musculoskeletal system. An old injury that never properly healed or repeated wear and tear on the body can cause a misalignment of the musculoskeletal system. A disc in your spine, for example, may compress nearby nerves, leading to pain in other parts of the body. This is why diagnosing and treating the underlying cause for your injury is absolutely critical. Until this misalignment is corrected, you will continue to be at risk for injury and pain.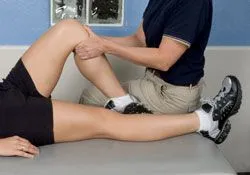 One of the most common sports injuries is a strain or sprain to the soft tissues. Damage to the ligaments, tendons or muscles can cause inflammation and pain. Without immediate treatment, these injuries cannot properly heal. Even if the pain subsides, your body may compensate for the injury by shifting pressure or weight to a different body part, which can lead to new injuries and pain. For example, an improperly healed ankle injury may ultimately lead to a knee injury. If you are a runner or enjoy active sports like basketball and soccer, a knee injury can seriously affect you ability to be active. If you have sustained a sports injury, Dr. Robinson encourages you to seek immediate care from a
chiropractor
. This is essential to stopping the build-up of scar tissue (which can increase pain) and helping the body properly heal.
Dr. Robinson also provides treatment and pain relief for tennis elbow, also known as golfer's elbow. The repetitive motion of gripping a racquet or club can cause the tendons in the forearm to become inflamed, leading to chronic pain when gripping or holding an object.
Chiropractic
adjustment and massage therapy can relieve the pain and reduce the swelling.
Regular exercise is essential to well-being. If you have been injured or suffer from pain, however, it's natural to be concerned about starting to workout again. The last thing you want to do is aggravate an existing injury or cause a new one. Our chiropractor can help you safely get active with corrective care exercises. These exercises strengthen the core muscles, improve flexibility and safely restore a full range of movement to your body.
Life is more fun when you can enjoy it! Get back in the game today with Mooresville chiropractic care. If you have suffered a sports injury, call us at (704) 664-1333 today.